Book Reviews
Tim Chester Mission Matters: Love says go (IVP 2015) 162PP £8.99
This is an excellent short introduction to mission – largely focusing on overseas mission. It begins with God and 'our mission is the extension of the mission of the Trinity'. Part One explores the origin of mission with God and the roles of the Father, Son and Spirit in mission; this is followed by an outline of the story of mission in the Old and New Testament scriptures, making it clear that mission did not begin with the coming of Christ but is central to the message of the Old Testament.
Part Three shows the all-encompassing scope of mission. Who? Everyone – with the church at its heart. What? Everything – with proclamation at the centre. Chester shows how many activities of service in Jesus' name constitute mission, but only when proclamation of the gospel is central. Where? Everywhere – with the unreached as the priority. The final section looks at the cultural and personal challenges of mission – and how God's grace is enough for all the challenges.
This is a stimulating book which will help its readers to understand God's mission to the world, consider their part in it, and take up the challenge. It is only a short introduction and the theme of each chapter is enough for an entire book. References to works cited give some pointers, but my only criticism is the lack of a bibliography for those who want to explore further.
Richard Toller, Pastor, St Mary's Community Church
Goldsmith, Martin, Storytelling: sharing the gospel with passion and power (Nottingham, IVP, 2014)
A previous minister used to give each baptismal candidate a verse before baptising them. The last minister used to give them a word of prophecy. I tell each one a different story! What do you do and why?
In an age of narrative theology Goldsmith unpacks his lifelong evangelistic strategy of storytelling, giving insight into is current potential. He believes that storytelling lies at the heart of Christian proclamation and dialogue in the 21st century, of particular relevance to those captured by post modern existentialism and other faiths.
In this relatively short and accessible book Goldsmith introduces all of the major religions practised in the world with a story based explanation of their philosophies and practices. He reflects on changing Biblical hermeneutics whilst major on contextualised storytelling.
Large sections of the book are devoted to storytelling, which will resource ministers, Sunday school teachers and those looking for ways to dialogue with friends about faith. The concluding chapter explores a variety of techniques that can be employed to enrich your gifting in this area.
As a committed story teller I found this book enriching and an inspiration on using story telling when witnessing in less formal settings.
Alan Donaldson
Lina Andronoviene, Transforming the Struggles of Tamars Pickwick (Wipf & Stock) 2014
257pp £21.50
Subtitled 'Single women and Baptist communities' but clearly valid for any faith community, this is a rich, thick, pastoral read, ultimately presented as a scholarly test of convictional theological ethics applied to involuntary singleness. That academic detachment is a strength giving this study clarity but may also be its sole weakness. While there are, for instance, some provocative and thoughtful suggestions for change and some magnificent insights there are no specific recommendations. There are insightful hints of transformational solutions but there is no 'how-to' programme for implementation. Genuine, painful experiences are given eloquent voice though what answers should be given are left to the thoughtful reader to embody and activate for themselves. This book is a prophetic, stimulating, challenging eye-opener rooted in convictional theology. It rewards careful reading. It is not a bible study handbook though thoroughly scripturally immersive and profoundly biblical in its thinking. It will make you think much more carefully about the language you use and the assumptions you have regarding 'singleness'.
A key quote she takes from another writer highlights a basic assumption she works from: "As Wilson (Being Single pp.59-60) helpfully notes, 'it seems many churches need to ponder whether they are predominately institutions for families or communities that operate as a family, with all kinds of members. Until this happens, many churches will have no idea what 'to do with' its single members'." (Andronoviene 2014:98). Along the way, Andronoviene shows an impressive mastery of several fields - with ethics, sociology, theology, philosophy - (and a familiarity with others such as biology, psychology, politics and neuroscience) and
has an ability to see their connections. She pleads for churches as inclusive communities of connectedness and friendship. "[unless] the church learns to foster the practice of singleness, it will continue to fail in its practice of marriage. Both are in need of transformation." (Andronoviene 2014:168). Perhaps it needs a second volume rooted in the praxis of incarnational theology? As a personal point of preference on page layout: I find the footnotes on every page distracting, as they interrupt the flow of reading. They would be less
intrusive collected at the end of a chapter or in an appendix. There is also some sloppy proof-reading. These minor niggles do not take away from a magisterial work that is immensely stimulating, redemptive, timely and creative.
Steve Younger, Minister, High Blantyre Baptist Church
Gerald Bray, God Has Spoken: A History of Christian Theology(IVP 2014), 1236pp £34.99
Christians in some churches recite creedal statements; others adhere to confessions of faith or shorter forms of theological statements to mark the boundaries of their particular ecclesial communion. What is particularly important to grasp is that these precise theological formulations did not come pre-packaged on the Day of Pentecost or at any subsequent time in the history of the Christian Church. Gerald Bray traces the history of Christian theology from the Early Church to the modern era. His work is a significant contribution in this field from a scholar whose expertise is well known and appreciated from his earlier writings. This volume although lengthy is elegantly written in a style that is both accessible to the proverbial interested lay-person in the pews as well as those educated in seminaries and universities. The eight sections of the book cover the major theological convictions of Christians in both the Western and Eastern traditions in an eirenic and illuminating manner. It is likely to be a standard work in its field for many years to come.
Brian Talbot, Minister, Broughty Ferry Baptist Church
Christopher J.H. Wright, The Message of Jeremiah (IVP 2014) 444pp £12.99
The Bible Speaks Today series has a threefold aim of expounding the biblical text with accuracy, relating it to contemporary life, in a readable and accessible form. Christopher Wright who has also produced other volumes in this series was a good choice to tackle this lengthy Old Testament book in the light of these criteria. Here there is thoughtful reflection on some of the critical questions faced by scholars by one who has a good grasp of the original languages, but also careful and clear exposition that provides encouragement to the preacher looking to plan a sermon or sermons from a chapter or section of Jeremiah. At the end of each section of the commentary the author includes some theological and expository reflections that are most helpful in pointing forward to a contemporary assessment of the issues raised and towards possible applications of them in contemporary culture. As a result the book of Jeremiah is presented not simply as an honest and challenging account of faithfulness to God in a very difficult time in an earlier era, but has become the setting for the reflection of current day believers called to serve God in a very different cultural context. It is warmly commended
Brian Talbot, Minister, Broughty Ferry Baptist Church
Kenneth R. Ross (ed), Roots and Fruits: Retrieving Scotland's Missionary Story, Oxford: Regnum Books, 2014, 166pp £21.99 (£13.19 direct from the publisher)
Scottish Christians have made a major contribution to the worldwide missionary movement, but until fairly recently there have been only limited attempts to provide accessible accounts of their work. This book is based on papers presented at a series of conferences prior to the 2010 World Missionary Conference. Andrew Walls offers a wide-ranging summary of three hundred years of Scottish missions. Kenneth Ross provides two chapters. The first on the Scottish provenance of the 1910 Conference in which he draws attention to the prominence of Scots in the work of key mission agencies and in the contributions of conference delegates. The second with James Wilkie focuses on the experiences of Scottish missionaries, 1950-2000, as part of the legacy of Edinburgh 1910. Esther Breitenbach gives attention to the home base of the missionary movement in Scottish Presbyterian Churches. Rose Dowsett highlights the contribution of some Scottish Evangelical missionaries between 1890 and 2009, in particular those associated with the Bible Training Institute, now International Christian College, Glasgow. John McCracken offers a brief paper on the life and work of Andrew Ross primarily in Malawi. Stephen Smyth writes about ecumenical engagement in mission in Scotland and Chris Wigglesworth on Internationalism and Scottish Missionary Thought. This book is warmly commended as it contains a good overview of the work of the major Scottish Churches.
Brian Talbot, Minister, Broughty Ferry Baptist Church
Peter Sanlon, Simply God (IVP 2014) 228pp £11.99
Scanlon makes a convincing argument theologically and historically with the weightiest of theologians from the past that a doctrine of simplicity is vital to studying the doctrine of God. Sanlon makes clear the importance of simplicity in order to keep a unity when understanding the character of God or the Trinity. Sanlon wants to emphasis that, "simplicity means that God is identical with his attributes and, consequently, each attribute is identical with each other attribute...[if] God's holiness is his love, simplicity would be the doctrine that enables this mysterious insight to be coherent."[1] (pp. 61-62) For many who feel a struggle to understand how God can love and be wrathful at the same time, the 'oneness' of simplicity helps greatly. Going further and a little more personal than this it also helps us understand that relationally God is love and so, "when he loves us, he gives himself to us,"[2] (p. 125) and not just an attribute. As a book entitled, 'Recovering the classical Trinity' I did feel the application of simplicity to the persons of the trinity was light; instead part 2 works to recapture simplicity from Augustine's classical explanation of God's love in the Trinity.
Rab Donald, Pastor of Community Life, Stirling Baptist Church
---
[2] Simply God, p125
Keith S Grant, Andrew Fuller and the Evangelical Renewal of Pastoral Theology (Paternoster 2013) 157pp £24.99
Andrew Fuller has long been recognised as the most significant Particular Baptist theologian in the late eighteenth and early nineteenth centuries. His groundbreaking work The Gospel Worthy of All Acceptation (1785; 2nd ed. 1801) was the standard text of Evangelical Calvinistic thought of that period. Fuller is also well-known amongst Baptists in particular for the work he did as the secretary of the Particular Baptist Missionary Society leading the society at home in support of the work in which William Carey and other colleagues were engaged in India.
However, Keith Grant has placed us in his debt by emphasising the pastoral theology of Andrew Fuller which following his conversion and call to ministry was worked out in charges at Soham and Kettering. Fuller's pastor in his formative years was John Eve, a High Calvinist, who declined to proclaim a free offer of the gospel to sinners. Fuller under the influence of his devotional reading of the works of John Bunyan and Ralph Erskine, together with the particularly influential writings of Jonathan Edwards, completely transformed his whole approach to pastoral ministry. Grant examines Fuller's experience and theology of conversion; his theology and practise of ordination; his doctrine and practice of congregational church life and his approach to preaching. It was in effect a renewal of Baptist Church life that was in the words of one of his deacons: 'Very Affecting and Evangelical'. Grant's work reminds us that first and foremost Fuller was an effective pastor.
Brian Talbot Minister Broughty Ferry Baptist Church
Lissa M Wray Beal 1&2 Kings, Apollos OT Commentary, Apollos (IVP) 2014 513pp £32.99
The Apollos OT Commentary series is a (slowly) growing series of academic exegetical commentaries aimed at helping the preacher understand the theology and context of the biblical text. This volume on 1&2 Kings will not disappoint lovers of the series. The majority of commentaries on 1&2 Kings tend to be quite devotional in style and content focusing mainly on the lives of Elijah and Elisha. However valuable such commentaries may be, devotional readings cannot be substituted for understanding the meaning and context of the biblical text itself, it is that understanding that will best inform even the most devotional sermon. The Apollos OT Commentary combines the best of evangelical biblical scholarship and a passion for the text to be understood and applied, though to be fair it is an exegetical commentary and application is thin on the ground of the book itself. It follows the normal pattern of the series with the author's translation of the text, followed by notes on the text, the form and structure of the text, comment on the text with an explanation summary. I have no hesitation in commending this excellent volume, it is a worthy addition to the series and to any pastor's library.
Norman Graham, Minister, Denny Baptist Church
John Stott, Basic Christianity, IVP 2008 (50th Anniversary edition), 192pp £8.99
Although I have been a Christian for almost 40 years, I confess that I have only just gotten round to reading basic Christianity, which was originally published before I was born. However, it was well worth the wait. It is a book that is about what it claims to be about - Basic Christianity. In his usual engaging style John Stott simply explains the basics of the Christian faith, those things that we must never forget but constantly need to be reminded of. This is an excellent book for anyone just wanting to be refreshed in the basics of the faith, but it is also an excellent volume to give to a new Christian to help ground them in the faith, and even to give to those who have not yet come to faith but who have questions. Each chapter closes with a few questions for further study or discussion and would be ideal for a church bible study or enquirers group. I highly recommend it, and I won't be waiting 40 years before I read it again.
Norman Graham, Minister, Denny Baptist Church
Gordon L. Heath (ed.), Canadian Churches And The First World War (Eugene, Oregon: Pickwick Publications, 2014) £21.00
Studies in the First World War have become a veritable flood in the last couple of years as centenary memorials and commemorations draw to our attention particular aspects of that conflict that convulsed not only Europe but also many of the countries associated with the major powers in their Empires. One area of research until recently under developed was the contribution played by the churches in their respective countries. This collection of articles on the Canadian Churches, edited by Gordon Heath, is a most welcome contribution that will serve as a significant introductory work in this field. It covers the perspectives of a range of denominations including Roman Catholics, Lutherans, Methodists, Presbyterians, Anglicans and Baptists, together with the traditionally pacifist Quakers and Mennonites. There is also a chapter covering the work of the women on the home front. The particular emphases and concerns of each tradition at the time were very similar to the views expressed by their co-religionists in the United Kingdom which is unsurprising given the close ties between these two countries. This valuable study fills a significant gap in the literature on the First World War.
Brian Talbot Minister Broughty Ferry Baptist Church
Larry J Kreitzer (ed.), 'Step Into Your Place': The First World War and Baptist Life & Thought, 192pp (Oxford: Regent's Park Baptist College, Centre for Baptist History and Heritage Studies, Volume 9, 2014) £20
With 2014 being the year that marked a century since the outbreak of what has become known as the First World War, there have been many books, ceremonies and programmes, both on radio and TV, to commemorate this event. (In Scotland this period of commemoration will continue until January 2019.) This collection of essays is a welcome addition to this, as it explores the response of our Baptist family, not just in Scotland, but also in England and Wales, to the outbreak of war. Most Baptists, despite a tendency before the war to pursue international peace and cooperation, chose to support the war and the reasons behind this decision are discussed. I appreciated the use of contemporary sources, for example, the Scottish Baptist Magazine, to illustrate this change in thinking. References as to how individual church fellowships were affected by the war and how this in turn affected the work of the church, possibly well beyond 1918, were also very illuminating. One essay also seeks to understand the ministry and experiences of Baptist chaplains in the armed forces and provides insight into how these men supported those fighting, often with little concern for their own lives, while another widens the focus of this volume by looking at Baptist attitudes to war over the past four centuries. For a Baptist perspective on a world event I recommend turning to this book.
Kate Christie, Broughty Ferry Baptist Church
Paul Mallard, Invest Your Suffering: Unexpected Intimacy with a Loving God (IVP, 2013), 181 pp
Suffering, in some form or another, touches us all, and yet remains a theme which is not easily addressed in our church life. Perhaps this is because we are not sure how to explain it, or may be dreading banal comments on someone's deeply painful experience – but the result often is the lack of the acknowledgement of suffering and an uncertainty about what to say to someone who is undergoing a dark valley of agony. Paul Mallard's personal story which this book tells offers an insight into a personal struggle with suffering – in his case, the illness of his wife. Mallard, a British Baptist minister for over thirty years, tells it in a personable and honest way, opening each chapter with an episode from his family's journey with an unknown illness. This is followed by a biblical exposition of suffering. Perhaps at times there seems to be a slight dissonance between the honest, open-ended personal story and the 'teaching mode' of the theological discussion, but overall, this book offers a helpful pastoral resource and encourages deeper reflection on suffering in relation to our discipleship.
Lina Andronoviene, Scottish Baptist College
Will van der Hart & Rob Waller, The Guilt Book (IVP 2014) 208pp £8.99
"Of the making of many books there is no end…" and most of us have no more room on our bookshelves! However, this is one that I would urge all pastors to make space for, not just for their own study, but to have available to lend out to members of their congregation.
This very helpful book, written jointly by a pastor and a Christian psychologist, distinguishes between genuine guilt which needs to be dealt with by repentance and forgiveness, and the false guilt which paralyses so many Christians that they need to be freed from. It contains helpful exercises, and also a most useful list of further resources, in case professional help is required with situations like severe depression.
If there is a weakness it is probably in tending towards the common Christian misunderstanding that sees Jesus as coming primarily to deal with guilt, rather than take away sin, but it is after all a book on "Guilt"!
Harry Sprange. Pastor, Bathgate Baptist.
Chris Sinkinson, Time Travel to the Old Testament, 208pp (IVP, 2013) £9.99
Chris Sinkinson, a lecturer at Moorlands College in the south of England, provides a deft presentation of the history, culture and religious ideas of Ancient Israel. This is a splendid introductory book for ordinary Christians who may find the Old Testament somewhat daunting. A clear historical sequence is presented, over against which the literature presented in its pages may be placed. It helps us to see how Moses, Isaiah, Ezekiel and Daniel relate to the history covered in such books as Deuteronomy, Kings and Chronicles. Israel is time-set in relation to the empires of Egypt, Assyria, Babylon and Greece. Due attention is paid to the results of archaeological digs in the Near East. There is also discussion of the religious ideas of the cultures surrounding Israel. Sinkinson deals sensitively with the ways in which the term 'myth' has sometimes been applied to portions of the Scriptures. He stresses that the Old Testament writers were story-tellers, but that they believed in the 'happendness' of what they wrote. For example, the Fall in Genesis 3 was deemed by the writer to have taken place, even if details of its presentation owe something to the culture of the times. All in all, this is a very worthwhile book, interestingly written. It is a book that deserves to be widely read.
Revd Dr Gordon Martin retired former Principal, Scottish Baptist College
Mark G. Johnston, 'Let's Study Colossians and Philemon' (Edinburgh: The Banner of Truth Trust,2013) 178pp £7.75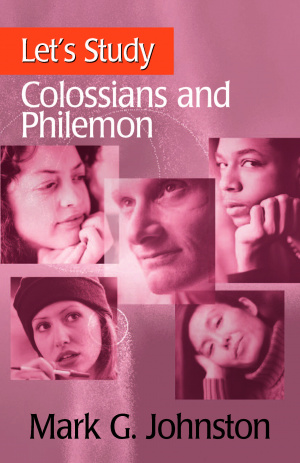 In his introduction, Johnston sets out the purpose of his book, that it is an '…exposition of Scripture written in the language of a friend, seated alongside you with an open Bible …' which can be used …'for individual Bible study…..or read in the context of the whole family……' as well as 'group study.' The short chapters enable the book to be used as a daily devotional which busy commuters may find helpful.
For me, Johnston ticked all these boxes, and more. He writes as the friend he describes above, in conversational style, using non-technical language, yet scattering gems of insight into the text. Throughout the book, he emphasises not only what the Scripture text means for us, but importantly, how we are to live it out together as 'Church' under Christ our head.
He also provides challenging and inspiring questions on each passage discussed. For preachers, he provides a useful and insightful commentary.
I enjoyed studying 'Colossians and Philemon with my 'friend' Mark, and I'm sure others will too. I recommend this book to pastors, preachers and home group leaders, and I certainly will be discussing its future use with my own home group.
George Hunter, Helensburgh Baptist Church
Tim Chester,You can Pray (IVP 2014) 171PP £9.99
All books aimed at encouraging people to pray are to be welcomed. I liked the positive statements like "Father loves to hear us pray", and the realistic facing up to why prayer is difficult. I found chapter 8 which covers why we pray (the glory of God, the mercy of God and the promises of God) particularly stimulating.
Having said that I am a little puzzled as to why the book was written. My impression (perhaps wrongly?) is that it is meant for the young Christian, in which case it is too "heavy" in content for a new believer. There is a major contradiction in that on p88 he clearly states that "God cannot and will not punish his people" while on p 127 he writes: "he is the God who does not leave the guilty unpunished". Is this a case of hasty writing or bad editing?
While I admire people with a strong faith, I also struggle with the Sovereignty of God which claims: "The struggles of your marriage, your unemployment, your cancer, your bereavement come from the One whose compassions never fail." Really? I would like to have seen some acknowledgement of spiritual warfare in that we have an enemy whose business is to steal, kill and destroy.
Definitely NOT recommended for new Christians, but extracts could be very useful for pastors/leaders needing resources to teach others to pray.
HARRY SPRANGE – Pastor, Bathgate Baptist, and Member of Pray for Scotland Core Team.
The Dating Dilemma by Rachel Gardner & André Adefope (IVP 2013) 220PP £8.99
If the names of the authors seem familiar to you it is probably either because you watched "No Sex Please, We're Teenagers" on BBC TV, or because you have come across the Romance Academy. Why, you might be asking, is a crusty old bachelor reading a book on "dating"? The answer is simple – I picked it up because of the great need for guidance on this issue. What is the Biblical teaching on dating, and are there any guidelines?
This is a very comprehensive and well thought out book, in particular encouraging couples to probe questions like what really attracts them to each other? One helpful quote: ""Dating isn't about finding our other half to complete us. It's about building a relationship built on two people sharing two full lives" and warns of the dangers of relationship built on insecurity. It is upfront about sexual temptation and boundaries, and helpfully but briefly touches on the sensitive areas of same-sex attraction and pornography.
I wish every Christian teenager would read it before they start dating. However, as it is unlikely that today's generation would plough through over 200 pages of closely reasoned teaching. It is therefore ESSENTIAL reading for every youth leader, and also pastors, who needs to teach their young people on the subjects we tend to avoid, namely sex and sexuality.
HARRY SPRANGE (possibly the oldest "Youth Pastor" in the country?) Bathgate Baptist Church
Brian Stanley, The Global Diffusion of Evangelicalism: The Age of Billy Graham and John Stott (IVP 2013)
There are few people qualified to write such a book with any degree of competence given the growth and spread of Evangelicalism around the globe in the second half of the twentieth century. The Professor of World Christianity at Edinburgh University was an excellent choice. His work covers the increasing range of Christians who would claim this theological identity; their work in mission, evangelism and revival; together a chapter on scholarship the Bible and preaching. There is an incisive chapter on Christian mission and social justice, principally on the impact of the Lausanne 1974 conference. The other two main themes covered in chapters are: 'The ferment of the Spirit: new charismatic and Pentecostal movements' and 'Hermeneutics, gender and sexual ethics', prior to a final chapter on 'Evangelism: diffusion or disintegration?' The author ought to be congratulated on covering so much ground in one book. It deserves a wide readership
Brian Talbot, Broughty Ferry Baptist Church
Anyone familiar with the NSBT series will not be disappointed by this marvellous addition to the series. Using the theme of 'word' language (see the subtitle) Shead opens up the prophet's doctrine of the word of God, what it means to speak for God and the living dynamic of God's word spoken to his people. With first rate scholarship, careful exegesis and an engaging writing style this volume is a must for anyone trying to get to grips with the prophet and his message. In an era when the power of the word of God is seriously questioned even in the Church, Shead reminds us that it is living and powerful, that it does speak even into our troubled century.
Reading this volume inspired me to read Jeremiah more closely, and it has inspired me to begin preparing a series of sermons on this word, and I can give it no higher recommendation than that.
Norman Graham Minister Denny Baptist Church
Craig L Blomberg Interpreting the Parables, second edition, Apollos 2012 463pp £19.99
Biblical scholarship on the parables has developed considerably in the 20+ years since the first edition of this excellent volume so there is plenty of new material here. The book is separated into two sections, the first dealing with interpretive methods of interpreting the parables and some of the controversies surrounding those interpretations. The second section deals more with the meaning and message of individual parables and concludes with a discussion on the theology of the parables. The target readership is clearly the preacher and theological student and the style and scholarship reflect this but I think anyone interested in understanding the parables will find this a helpful volume. Having said that, it is probably the section dealing with the meaning and message of the parables that preachers will find most helpful.
Norman Graham Minister Denny Baptist Church
Colin G. Kruse, Paul's Letter to the Romans (Grand Rapids: Eerdmans, 2012). 627pp, £32.99.
This is a co
ntribution to the Pilllar New Testament Commentary series, which is pitched at the level of the needs of pastors and teachers, and those wanting to dig a little more deeply about scripture. The writing is clear and accessible, and though it is aware of recent scholarly research on Romans, it has a minimum of technical discussion, mainly in the footnotes.
The commentary is based on the 2011 edition of the NIV (TNIV), and this is important. Some of the previous anomalies in translation, notably 3:21-26, have been revised. This does not mean that the traditional interpretation of Paul's theology has been jettisoned. The conservative line is maintained throughout the exposition.
The introduction to the commentary has a helpful discussion of a number of theological themes arising out of Romans. These include a balanced and up to date review of what is called the New Perspective on Paul. Throughout the commentary proper, exegesis is the basis, on which is built theological and pastoral reflection. The commentary does not break significant new ground in the study of Romans but has many wise and helpful insights to guide the reader of the letter.
Ian Birch
Scottish Baptist College
David Bebbington & Martin Sutherland (eds), Interfaces, Baptist and Others, (Milton Keynes: Paternoster, 2013),
404 pages £29.99
This is an excellent piece of work each chapter being written by a different Baptist thinker who had presented a paper at Whitley College Melbourne, Australia in 2009. This book primarily covers Baptist thought and practice as it came into contact with 'the other' such as Buddhists, Roman Catholics, Racial Justice and the birth of the Churches of Christ. It has an international perspective taking up issues related to Baptist history and principles in the nations of Britain, Canada, USA, Australia, New Zealand and unusually Indonesian Papua, Burma and West Africa, primarily covering the nineteenth and twentieth centuries although there are two articles given over to early Baptist thought on Sacramentalism and Episcopacy .
Personally, I was delighted that when the First World War was mentioned the ministry of Baptist chaplains was referenced and not ignored which has often been the case in the past. I discovered that I knew very little about the Baptist movement outside of the Western World and reading these lectures was a true voyage of discovery. I had no idea that some eastern European Baptist churches have Bishops!
The only disappointment was the title which to me made little sense until I read the introduction and would not have attracted my attention on the bookshelf amongst other books with more straightforward titles. Regardless of this minor criticism, I whole heartedly recommend this book which although academic is easy to read. A must for any seriously thinking Baptist!
Rev Dr Neil Allison is currently serving as a British Army chaplain.
W. Ross Blackburn, The God who Makes himself Known (NSBT series) Apollos 2012, 238pp £12.99
The God who makes Himself knownby W. Ross Blackburn is a study of the book of Exodus, arguing that the scarlet thread that is sown throughout the book is God's mission to make Himself known to all the nations. The writer, heavily influenced by the pan-biblical framework of Childs, makes a convincing argument for the unity of Exodus and of the consistency of the writer.
Blackburn takes on the most perplexing passages of Exodus, which are widely accepted to prove the documentary hypothesis (Wellhausen's argument of J,E,D,P.) and argues that they are not only consistent with the rest of Exodus, but are actually important in revealing God's missionary heart. Although this might make the book sound irksome to some, it is certainly worthwhile for any who might find the academic elements distracting because Blackburn reveals how hard passages are screaming out God's heart in simple and profound ways. This book is full of application for personal study; preaching and teaching not only on Exodus but also on Mission and reminds us that, 'the memory of the past leads to praise in the present, and faith in the future.'
Rab Donald Community Pastor Stirling Baptist Church
Andy Draycott and Jonathan Rowe (eds) Living Witness: explorations in missional ethics (Apollos 2012) 238pp £16.99
Since God calls his people to be a living witness to him, then morality is also part of mission. Conversely, immorality is 'ant-mission', a failure to give true testimony or witness. In other words, the whole life and ethical behaviour of the church, not just verbal proclamation, testifies to the church's faith – or lack of faith – in her Lord. Most pastors and church leaders will find that this resonates in terms of their own experiences. The first section, 'Foundations' places the collection of essays around broad theological themes; Brock's exploration of creation develops in an engaging and imaginative way the theme of mission as gardening whilst Jenson's exploration of church attempts, I think unsatisfactorily, a missional approach to homosexuality. The second section explore particular issues such as families, friendship, politics, money and immigration.
Living Witness does locate the ethical task in response, not to ethical situations, but rather to the God who is on mission. It will certainly encourage reflection and conversation; in the final analysis the authors are right to remind us that Christian ethical practice flows out of, supports and advances the wider mission of the church to proclaim the gospel.
David Gordon, Minister (Team Leader), Kirkintilloch Baptist Church
Phil Ryken Grace Transforming IVP 2012 128pp £7:99
Grace is 'God's overflowing, infinitely wise love, freely given, though undeserved and never repayable'. So quotes Phil Ryken in 'Grace Transforming'. Some may wonder how anyone can fill as many as 109 pages describing the benefits and blessings of grace, but once you've read this little book you may wonder how such a short book could do the subject justice. Ryken examines grace like a multi-facetted diamond and the results are sparkling. If you have reached a point in your life where you just feel that you have failed in life, work, ministry, marriage or parenthood, doing things in your own strength, then, as you read this book, you will be reminded that God is ready and prepared to pour his overflowing grace into your outstretched hands and transport you from a place of defeat to new experience of intimacy, joy and peace. If you are in need of being re-introduced to this life changing substance, then 'Grace Transforming' is not a bad place to begin.
John Craib Minister Bearsden Baptist Church
David G Peterson, Transformed by God (IVP 2012) 192p £9.99
Peterson's book is a study of the New Testament as a fulfilment of the New Covenant expectation described in Jeremiah 31:31-34. The subject is handled systematically moving from Luke/Acts through Hebrews, the Pauline epistles, Romans and the Johannine writings in the successive chapters (although there is nothing in the chapter headings that would indicate this).
The strengths include the depth, detail, references and systematic layout. The text does not flow readily and the reader will have to take a stop/start approach if giving attention to the many references and footnotes.
I found it quite technical and strong on information but weak on application. His stated intention in writing is to expose the way New Testament writers understand and apply New Covenant expectations to the Christian life and ministry. No one would argue with the author's direction to keep Christ central, but as far as application is concerned he doesn't say much more than that.
If you are looking for a detailed study of the subject then this is it. Each chapter has a conclusion and I would recommend reading the conclusion to the chapter before reading the chapter from the beginning.
Nigel Heath, Minister Westwood Baptist Church East Kilbride
Hugh McLeod, The Religious Crisis of the 1960 (Oxford: OUP, 2007) 290pp £16.99
In the early twenty-first century British Christians often remark with a sense of bewilderment their concern at the increasing departure in the public square from the Christian moral framework that was taken for granted in Britain until a few decades ago. The author of this book demonstrates conclusively that the 1960s were the years of decisive change in the religious history not only of Britain but throughout the Western world. His remarkably comprehensive and authoritative study of developments in Western Europe, North America and Australasia covering the changes in both Protestant and Roman Catholic Churches is also very readable for the general public. Too many important volumes are written exclusively for the scholarly community. The author makes significant use of oral history to complement more academic sources and in so doing takes seriously the complexity and the seriousness of the social and religious changes of the period. In short it is a magnificent study of this theme and will surely be the standard work on it for years to come.
Brian Talbot Minister Broughty Ferry Baptist Church
Claudia Wahrisch-Oblau, The Missionary Self-Perception of Pentecostal /Charismatic Church Leaders from the Global South in Europe (Brill, 2012) €35.00 428pp
This ground-breaking study based on extensive interviews and interaction with more than a hundred representative church leaders originally from the Global South explains how they view their calling in ministry; how their churches are organised and led and how they understand and carry out the work of evangelism in a different cultural context. Although a witness primarily focussed on migrant communities, there is also an intention to re-evangelise the majority community and present in a vibrant and creative way the claims of the Christian faith. This book is a vital contribution to our understanding of a growing part of the Christian community in Europe. Anyone ministering in a major city in Europe will
be increasingly aware of the growing number of churches being planted by pastors and laypeople from this region of the world. This author, a German Lutheran mission specialist, has placed us in her debt as she allows her readers to learn so much about this major branch of the Christian Church in Europe.
Brian Talbot Broughty Ferry Baptist Church
Robert Fisk, The Great War for Civilisation The Conquest of the Middle East, (London: Harper Perennial, 2006) 1368pp £9.99
Robert Fisk, the Middle Eastern correspondent of first The Times and then The Independent for more than thirty years is possibly the best placed Western journalist to guide us through the Western nations' military and colonial adventures through this region of the world. This book covers a range of conflicts on which he has reported since 1976 in the Middle East and North Africa, as well as describing earlier twentieth century conflicts through the eyes of surviving witnesses. At a time in April 2013 when British and American Governments appear to be considering yet another military intervention, this time in Syria, Fisk provides all the moral and political information we need to enable us to cry out with a passion –'not in my name'. If you have time to read only one book on the Middle East to understand the perception of Western Governments in the eyes of the peoples of that region then this is probably the one to choose. One does not have to be in agreement with every political judgement the author makes to view this book as one of the most important works of the last decade. It ought to be required reading for leading British and American politicians, but it is also of great profit to ordinary citizens as well.
Brian Talbot Broughty Ferry Baptist Church
John Olley, The Message of Kings BST series, IVP, 2011, 374 pp £12.99
John Olley's' The Message of Kings' provides a useful and very helpful addition to the Bible Speaks Today commentary series. His commentary charts the historical panorama of 1 and 2 Kings that documents the decline of Israel from the glories of the reign of Solomon to the division of the kingdoms and the eventual exiles. He approaches these books as a form of preached history that was designed to draw lessons from the past for the exiled Jewish community. He effectively charts the theme of God's continuing presence with his people and the need to trust in that presence.
The work is written in a highly accessible manner without compromising its scholarly credentials. Olley, unlike other commentators that become preoccupied with the minutia of the text, focuses very much on the narrative flow of the passage. He provides highly insightful over views of the narrative flow and structure of a story. He then seeks to identify the underlying purpose that this flow and structure serves. 'What is the writer's purpose in telling this story to subsequent generations?'This approach makes for a very lively and insightful commentary as Olley highlights the various nuances of the text and then seeks to answer why this story should be presented in this way. It also makes the commentary very accessible for anyone preaching through these books. In his consideration of each passage Olley sets out a very easy to follow pattern that translates well to the pulpit. He observes
what is going on in the passage, raises pertinent questions and insights and then brings the application. However, if one is looking for a more through and detailed consideration of the Hebrew text the reader may find Olley's approach a little frustrating. But that said, I think it would be hard to find a more accessible and readable overview of these important books that draws out so effectively the meaning and purpose of the text. Great for anyone who is preaching through Kings or just wants to get a sense of the original context of these historical books.
Alasdair Black Senior Pastor Stirling Baptist Church
Amy Orr-Ewing, Why Trust the Bible? (KJV Anniversary edition) IVP 2011, 144pp £7.99
This is a very useful volume as an introduction to the subject. Amy Orr-Ewing is an apologist and structures the book around ten questions which might be asked regarding the significance of the Bible to our faith. She first looks at postmodern approaches to language and interpretation then deals with content, reliability, and canonicity.
This edition adds a section on the KJV which might have been enhanced by engaging a little more with the 'King James Only' argument, though this view is perhaps restricted to a fundamentalist minority and not part of the intended readership.
Whilst it is an accessible read, her easily understood approach could well have produced a larger work which, at the end, one is left looking for.
Rev Peter Dick Minister Erskine Baptist Church
Marcus Honeysett, fruitful leaders: how to make, grow, love and keep them. Nottingham: IVP Living Leadership, 2011 £8.99 216pp
Marcus Honeysett is the founding director of Living Leadership, a network encouraging evangelicals of various expressions to work together in training and equipping leaders. fruitful leaders (why do publishers think something is more enticing without capitals?) is a solid and fairly basic approach to leadership in the local church. The carefully nuanced language of the book, emphasising grace and generally avoiding reference to the active ministry of the Holy Spirit,* betrays its bias in the Word and Spirit balance. Honeysett is fond of the adjective spiritual and uses it as if our spiritual life, leadership, gifts are somehow separate from the rest of life. We do not have spiritual lives; we have lives which we learn to live spiritually, that are lived in full awareness of the presence of God. A very useful feature of the book is the clear statement of a main principle at the beginning of each chapter and its development both biblically and practically.
Rev. Michael Bonser, Minister, Viewfield Baptist Church Dunfermline
Guy Brandon,Just Sex: Is it ever just sex? IVP 224pp £9.99
As the title suggests, Guy Brandon persuasively argues that our cultural belief in 'consensus only' sex which, it is claimed, affects nobody but the two humans engaged in it, is erroneous and is currently causing widespread human and relational damage right across society in the UK. Citing British up-to-date research, Brandon delineates a vivid picture and strong argument that all sexual encounters outside of the biblical mandate of covenant commitment and fidelity have huge knock-on effects on many aspects of society and human relationships.
As the church faces increasing pressure to conform to culture on issues such as same-sex marriage, co-habitation, etc., this book is a well-written wake-up call and challenge to defend, and remain within, the biblical parameters of heterosexual marriage as the only context for sexual union, for the good of both the individuals involved and also society-at-large.
Rev Alistair J Cuthbert. Pastor of Family Life, Stirling Baptist Church
Bill Hybels, "Too Busy Not to Pray", IVP 2011, 206pp, £9.99
This is a new edition of his 1988 classic, and includes study questions, which makes it a good resource for a house-group to work through. The sub title is "Slowing down to be with God." It is readable, practical, with live illustrations and personal admissions of failure, which makes it suitable for relatively new Christians through to older Christians who have lost their first love, and over-busy Church leaders.
It is helpfully divided into five sections: God calls us into His presence; God invites us to talk to Him; God break down the barriers between us (including our loss of faith through unanswered prayer); God speaks to our hearts (how to listen to God); and a surprise at the end is God prompts us to action, which encourages our response in practical action.
Rev. Harry Sprange, Minister, Bathgate Baptist Church
Rhona J Tolchard, Cara: A hope and a Future, IVP 2010 192pp £7.99
This is a very challenging book written by a Christian couple detailing their struggles to care for their severely handicapped daughter, Cara. As Cara grew, the couple faced enormous difficulties getting the Education Authorities to provide adequate schooling. It was a battle which consumed them and which they never won before Cara died at age 9. The book outlines their struggle to make sense of what they were going through from a Christian perspective. The themes of the book are hope and the need for Christians to challenge injustice. It is a must read for anyone who has a handicapped child or for a church which has parents facing such a struggle, either within the church or the wider community.
Rev. Ian M Reed, member, St Mary's Community Church Dundee
Book: The Great Emergence (Click for review)
Author: By Phyllis Tickle, published by Baker Books 2008
Reviewer: Norman Graham, Denny Baptist Church.
Book: Imagine Church: Releasing Whole-Life Disciples Author: Neil Hudson IVP 2012
The theme of this book will hardly be new but it is a theme we constantly need to put at the very centre of our ministries; namely, equipping each member of our congregation to be effective disciples of Christ in the context of everyday work, leisure and home. Neil Hudson notes how relatively easy it is to find good models of church when it comes to preaching or social action or worship - 'yet it is rare, very rare, to find a church where the main thing is exactly what Jesus identified as the main thing - 'go and make disciples'. And yet, as the book argues, 'Making whole-life missionary disciples is the core vocation of the church.' It is nothing short of a call 'to see the whole of the people of God live out the whole of their lives under the Lordship of Christ for the sake of the wholeness of God's mission for the whole world'
One of the many strengths of this book is that it has come out of a three year project working with a number of churches of different denominations, sponsored by the London Institute for Contemporary Christianity. Thus the book is both realistic and practical without at all being prescriptive or programmatic.
The heart of the book is a plea for the deep culture of our churches ('the way we do things around here') to be radically changed. This happens through re-envisioning each of us to see that God is already present and at work in the everyday moments of life in the office, at the school and in the golf club. There are 168 hours in a week and Hudson argues that if 48 are spent sleeping (an insomniac I presume!) and 10 are involved in church gathered, that leaves 110 hours per week for work, family and leisure. It is seeing God at work in the 110 that is critical for discipleship. So often we are far too focussed on what happens in the church gathered and (quoting Mark Green) 'recruiting the people of God to use some of their leisure time to join the mission initiative of church-paid workers'! The role of leaders is not to encourage people to do more but to model and teach how they can live fruitfully and creatively just where they are, to reclaim their everyday lives as their frontline, the place where God can use them. However, it would be wrong to see the emphasis here as simply God using us in mission. Whole-life discipleship is not just about being released for service but about the whole of life being the context for growing into maturity.
The book helpfully outlines the key stages in the process needed to become a whole–life discipleship-making church. One of the most helpful aspects of this is the significance he gives to the small but strategic changes which are needed to begin to change the culture and perspective of a church. The ideas, in themselves, often sound trite but their effect can be telling indeed. They range from having a mirror on the missionary notice board (!), to making sure the pictures of the church members in the entrance are pictures of them at work (their mission frontline) to a strong emphasis on telling stories of what God is doing in everyday life.
Rev Andrew Rollinson, St Andrews Baptist Church
Book: The Deliberate Church: Building Your Ministry on the Gospel
Author: Mark Dever and Paul Alexander

This book is unofficially the second part of 9 Marks of a Healthy Church (terrible title, great book). In that book Mark Dever argues persuasively that there should be certain distinctives that shape what we do. In addition to prayer, churches should be marked by expository preaching; Biblical theology; the Gospel; a Biblical understanding of – conversion, evangelism, Church membership, Church discipline, and Church leadership; and a concern for discipleship & growth.
What Deliberate Church does is put the meat on the bones of 9 Marks of a Healthy Church . The book is split into 4 sections – Gathering the Church, When the Church gathers, Gathering elders and When the elders gather.
This book is so refreshing. At no point does it encourage us to adopt the latest fad. At no point does it suggest that what we really need to do is simply borrow principals from the business world and spiritualise them. And at no point does it encourage us to be trendy in order to draw in a crowd.
Instead, what this book so ably does is get us back to basics. It outlines what we should be doing – not because 'Mark Dever says' but because the Bible says. For pastors – this book will give us the only model that we need – that of Scripture. This book calls pastors to be faithful in preaching, praying and being deliberate in investing in personal discipleship relationships.
This book calls us to ensure that the Gospel is central to all that we do. It helps us to realise the importance of church membership –noting that we must 'guard the front door' in order to protect the purity of the local church. This book will also motivate us in our evangelism, in helping us to be deliberate in our discipleship and will also help us to understand the important role of the ordinances.
This book helps us understand what Biblical leadership is, giving practical guidance on the qualifications and role of elders. All in all, this book encourages us to get excited about the Lord's Church by painting the Biblical picture of the Lord's Church. It will help heighten our ecclesiology by rooting us in the Bible. By the end of the book therefore, we will deeply desire our local churches to be places where there is an increasingly clear display of God's wisdom and glory!
Rev Mark Schenk, Duncan Street Baptist Church, Edinburgh
Book: Deep Church – A Third Way Beyond Emerging and Traditional.
Author: Jim Belcher, Founding/Lead Pastor of Redeemer Presbyterian Church, Newport Beach, California. IVP.
It is with despair over recent times that I have listened to and read about the clash between two brothers in Christ, namely Rob Bell and John Piper. Rob would be seen as representing the emergent church and John the traditional church. Personally I don't think either of them has helped the cause of the church in recent days after clashing over the content of Rob's latest book 'Love Wins'. Whatever the rights and wrongs it seems unwise to me to converse with one another in such a public way. I think the Bible says something about going to your brother if you have a grievance! Twitter does not constitute the Biblical model and frankly I expected better from both of them.
I have experienced equal despair at watching the Bellites and the Piperites get behind their men over the last few weeks and take the opportunity to have a go at one another. It is all very divisive and unhelpful, particularly as many of the 'ites' have not yet read the book for themselves.
This whole incident highlights the standoff within evangelicalism right now between those in the emergent church camp and those in the traditional church camp. It has been like this for years, but is becoming more and more difficult. The Bell/Piper incident of recent weeks is symptomatic of a much deeper division that is in danger of inflicting irreparable wounds to the church of Jesus Christ.
I will put my cards on the table and acknowledge that I have spent all my years in the traditional camp (by traditional camp I am thinking about a reformed view of the Scriptures and the gospel etc) but have always remained open to learn from the emergent camp in their desire and ability to find relevant ways to be church in today's culture in regards to worship, mission etc. I agree with many of the questions that the emergent church ask of traditional church, but I am not always comfortable with or sure about their answers and get very frustrated when they provide no answers to their own questions!
At last I have found a book on the subject of emergent and traditional church that is humming my tune. Why must it be either/or, surely there must be a better way forward. Jim Belcher calls it 'The Third Way'.
Jim has close friends within the emergent and traditional church. The book therefore benefits from his good relationship and standing with his brothers and sisters within both camps. His appeal, explanation and call to 'The Third Way', which he calls 'Deep Church', is attractive and compelling. He writes with passion and compassion and I believe his book is timely.
He presents the seven protests of 'Deep Church', which are:
1. Deep Truth.
2. Deep Evangelism.
3. Deep Gospel.
4. Deep Worship.
5. Deep Preaching.
6. Deep Ecclesiology.
7. Deep Culture.
He carefully explains each of the seven protests highlighting the position of the emergent and traditional church before going on to describe 'The Third Way' which is 'Deep Church'.
Although the book is short the content has been well researched and is thorough. Belcher is a local church pastor and a practitioner of 'The Third Way', although he acknowledges that he and the church he serves are still seeking to work out fully the 'Deep Church' which he has written about in this book.
In his conclusion Belcher says; "It is my hope that 'Deep Church' will become a platform for working out a third way in the church, that pastors and scholars will use the seven protests I have outlined in this book to instigate conversations, build on my suggestions, do more research and strengthen the deep church. This will bring unity across denominations and theological persuasions.
I trust that his hope will be realised. I am persuaded that the third way is the way to go!
(PS. If you haven't read John Alan's or Derek Tidball's articles on Rob Bell's latest book 'Love Wins', please take time to do so through the Partnership website).
Rev Alistair Purss, Dumfries Baptist Church
Graham Hooper, Undivided: Closing the Faith-life gap (IVP 2013) 223pp £8.99
At last – a deeply theological book written by someone who is not a professional theologian. This is unusual in that Hooper is a Business Executive who was not converted until into adult hood, and has obviously wrestled with an attempt to close the gap between the world of faith, and the working world of Monday to Friday. This book is Biblical, spiritual and practical, as well as being refreshingly honest about the struggles of life. It is a solid read, and not to be skimmed through, but good for all who want to related their faith to everyday living, including the problem areas of failure, disappointment, and even death. It is an excellent resource for ministers to lend to members who are struggling in the working world.
Rev. Harry Sprange Minister Bathgate Baptist Church
Steve Timmis, "I wish Jesus hadn't said that…" IVP 2013 153pp £8.99
I grabbed this book as soon as I saw the title, and was not disappointed. In one sense it is an easy read, but on the other hand extremely challenging. It covers the most controversial sayings of Jesus that most of us in the modern world try to explain away. What did Jesus really mean by "Loving your enemies", "Denying yourself", "Blessed are the persecuted", among other topics, and finally ending with "Go and make disciples of all nations"? I'm not going to give away the author's conclusions, as you need to read this for yourself!
Compulsive reading : challenging for the mature believer but simple enough for the new Christian who needs to be set on the road of serious discipleship. Highly recommended *****
HARRY SPRANGE [Pastor, Bathgate B.C.]
"One Lord, One Plan, One People" by Rodger Crooks, Banner of Truth, 2011. 465pp, paperback, £8.50

This is an excellent introduction to the Bible aimed at someone who is totally new to the Christian Faith. Although it seems lengthy, the author actually manages to summarize each book of the Bible into 7 or 8 pages, bringing out the over-all themes, and with the OT explaining how everything points forward to fulfilment in the Lord Jesus. On the whole it is written in a simple style, with just one or two passages that need to be further explained, for example the use of the word "wrath", which is hardly in common usage in post-modern Scotland. Maybe that's a hint of his Northern Irish background?.
As someone who is usually cautious about publications from Banner of Truth, this one is to be recommended,
HARRY SPRANGE Pastor Bathgate Baptist Church
The Lion Handbook of Science and Christianity [Hardcover]. UK price £25. Published 2012
"Excellent & Comprehensive. Well Illustrated & Clear Thinking"
Problems are bound to emerge when science and religion appear to be competing over similar explanatory space, so it is particularly refreshing to encounter the thoughts of people who are able to speak with authority on both disciplines. The Lion Handbook of SCIENCE & CHRISTIANITY brings together a group of very distinguished scientists who are also Christians to review the history of science-faith relations and to examine current scientific advances and theological perspectives.
As to be expected from LION Publications the book is well-written with outstanding and relevant illustrations. A feature of Lion publications is the highlighting of specific topics that are given extended treatment in boxed features.
The very helpful opening sections review scientific method and the nature of religious belief considering different types of knowledge and how these can be understood and applied to both scientific thought and religious belief. The contents then go on to deal with each of the principal scientific disciplines. Surveying the history of relations between science and Christianity from the sixteenth century to the present and also to show how Christian thinkers responded to major scientific discoveries and advances such as 'Creation and the beginning of the Universe'; 'Age of the Universe and of the Earth'; 'Theory of Evolution', 'Discovery of DNA'; 'Origin of Life'; 'Artificial Life'; 'Ethics and Values'; and 'Developments and Understanding of the Human Brain'.
There are many more scientific and religious concepts presented and discussed that guide the reader carefully and clearly through these very interesting and helpful areas of Science and Christianity. It also includes discussions on 'Intelligent Design' and on 'Creationism'.
Experts provide in-depth coverage of a very wide range of modern scientific advances including, stem-cell research, the life of the embryo, quantum mechanics, energy-generation, environmental understanding, nanotechnology, designer body parts and the search for extraterrestrial intelligence.
In actual fact, there has never really been 'warfare' between science and Christianity, yet the image persists. The various expert contributors to SCIENCE & CHRISTIANITY provide a combination of sturdy Christian theology with equally sturdy scientific knowledge making this a stellar book for reading straight through or a reliable resource for consulting individual topics".
Professor R J [Sam] Berry [Editor] has provided an excellent job in integrating some 26 expert contributors to provide a handbook and forum to help readers understand the issues raised where Christianity meets science.
Whatever your position on SCIENCE and CHRISTIANITY, this book will inform [and maybe challenge] you with the real story of the relation of science and Christianity. DO READ...........
Dr Jim Brooks [Queen's Park Baptist Church, Glasgow]
Book: Leda
Author: K. C. Murdarasi, Publisher: Troubador

According to the front cover Leda was shortlisted for the Scripture Union New Fiction Prize 2007, and, having read the book I can understand why.
K. C. Murdarasi, a member of Adelaide Place Baptist Church and a former missionary in Albania, writes beautifully and deeply theologically for young people.
Leda is titled after the main character growing up in Albania in 1991 just after the fall of Communism. When visiting missionaries come to a nearby village she hears about Jesus for the first time and puts her trust in Him. However, life circumstances threaten to overwhelm her and her faith at first falters. Yet God continues to reveal Himself to her, and she learns what it really means to put her trust in God and grow in faith with the help of a local pastor helping her understand the Bible.
When the country is thrown into chaos again in 1997, Leda and her best friend run away, to escape to Greece, and once again Leda's faith is tested - though she knows that God is faithful and will get them through.
Throughout the book Murdarasi cleverly weaves biblical and theological truth into the well thought through narrative addressing issues such as what happens when God doesn't answer our prayers in the way we would like, the challenge to not compromise our faith in our lives, listening to God's voice and being open to His guiding presence.
As the summer approaches and Sunday School prizegivings loom, Leda is well worth considering, especially for readers over 10 years of age. For more info or to obtain copies then visit K.C. Murdarasi's website www.kcmurdarasi.com
Rev Mo Gibbs, St Ninian's Baptist Church, Youth Development Coordinator, Baptist Union of Scotland